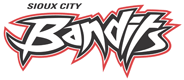 Topeka, KS – The American Professional Football League officially announced the addition of the Sioux City Bandits as a new League member that will begin play in the spring of 2011. The Bandits play home games at the Tyson Events Center in Sioux City, Iowa.
"The Bandits have a substantial history and are a wonderful fit for our league," said APFL President Ralph Adams. "We continue to actively search for quality teams that fit our regional criteria. They are an excellent organization on and off the field and we believe they will bring additional professionalism and competition to the APFL."
The APFL is the longest continuously operating indoor professional football league in America. The 2011 season represents the ninth year of League play. Sioux City has had indoor football continuously since 2000 and are going into their 12th year with this move to the APFL.
The Bandits will be natural in-state rivals for the two-time league champion Iowa Blackhawks as they are less than 100 miles apart. Sioux City also has ties to Topeka, Kansas indoor professional football. Back in 2000 both cities had teams meet on the field of battle twice. Sioux City was represented by the Attack and Topeka by the Knights of the Indoor Football League (IFL). Both were Western Conference, Southern Division rivals.
"The move to the APFL looks like it will be great for our fans and sponsors," said Bob Scott, managing partner of the Bandits "and will bring more opportunity to young players in our region. We are excited to begin play in the spring and hope we can make an even bigger impact both in Sioux City and in the League as a result."
"The APFL continues to play its intense brand of exciting, smash-mouth, wall-to-wall indoor football. The Bandits are the next cog in the growth of the league. Our 2011 schedule will be announced soon," added Adams.